ARTISAN LIPSTICKS
$24.80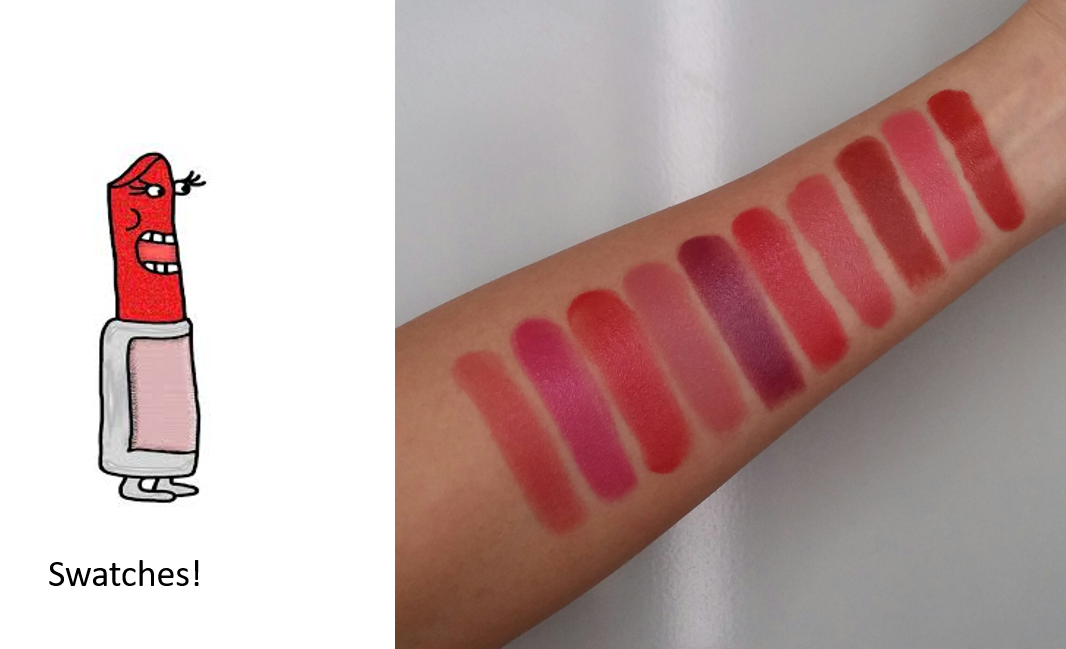 From Left:
Subzero Rose Tint (sheer rosy color  you can apply without a mirror)
Couture Pink (a gorgeous Fuchsia  Pink) awesome for girls outing or a romantic dinner date
Couture Red (a Flame Red) when you need to do black tie.
Mauve Pink (a pink with blue undertones) my lips but better! Second best seller! best for office wear.
Mystic Plum ( a deep plum) enough said. for those where there is no boundaries.( discontinued)
Rose Red ( a neutral elegant red shade) Best seller! An elegant Rose red that suits most skin tones, from fair caucasians, to ethic chinese to ethic indians)
Peach Coral (a pink with an orange undertone).  sunday dates and garden parties.
Berry Red (a brown red). For no nonsense days.
CSY Pink (a pink which pops better than mauve pink). For sweet girls. really.
Korean Orange (a red orange). warms up any complexion. for that sunny personality.
All shades are made without Carmine, Aluminium Lake colors, Tin Oxides and D&C colorants.
Please note: Colors when viewed on different screens may look different ie Mac Vs Samsung.  Lip Colors will vary when worn due to individual lipbase colors.  Or come try the colors at our boutique ZEROMULTIPLE at 6 Rochester Park S139217. Every Saturday 12 noon to 6pm.
Description
Moisturizing and Creamy Lipstick based on an Argan Oil Lip Balm Formula.
There is no need to apply lipbalm underneath our lipsticks.
It is a lipstick based on a lipbalm formula. 2 in 1. ( Because lipstick should be made this way)
Ingredients
Organic Cocoa Butter(Theobroma cacao), Shea Butter(Vitellaria paradoxa), Coconut Oil (Deodorised) (Caprylic/Capric Triglyceride), Argania Spinsosa (Argan) Oil, Beeswax.
Application Tips
For new lipsticks, warm it against your lips for a couple of seconds. Formula adjust to body heat for smoother application.
For a subtle look, apply a sheer layer with fingers.
Expiry
Please use within 6 months after purchase.